True to form, the time is flying by! Since we last posted here, a lot has happened. There are several images that accompany this post. They can be accessed by either clicking here or by selecting them from the dropdown menu under 'Gallery'.
We managed to catch up with friends Neal and Bev on Friday 18th April. We started off in Joy's Bar in Petriti which we had never visited before. It was very comfortable and not over-priced. A good way to start our evening with friends who were shortly to return to the UK.
Our first attempt at eating out failed, not surprisingly given the day and the time (Good Friday). However, we went on to Minore Taverna in Messonghi, another first for us.
It was surprisingly full inside and our host, Χαρι, was very welcoming, not to mention entertaining! Tricia had a large bowlful of the most delicious homemade chickpea soup which we have never seen on a menu before. Tricia loves soups and she declared this one tasty, peppery and just to her liking. It was also the perfect accompaniment to the evening's absolutely dire weather!
The journey home from Mesonghi was treacherous with the rain lashing down all the way home. The purple lights in Benitses, along the promenade from Garitsa and on the Liston were very evocative. Sadly, it was too wet to risk our cameras!
We couldn't help feeling that this was such a shame for those whom Easter and all that goes with it means so much.
The bad weather continued into Saturday 19th April and we certainly weren't going to venture out.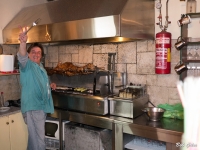 However, on Easter Sunday, the weather improved mid morning. We had booked a table at Gabriel's Steps in Old Peritheia. We were glad that we had as it soon filled up. We could not believe how many people turned up without booking. This was only one of two days that we ever consider it essential to book. (May Day is the other!) We had a long power cut during the morning which meant that our lamb on the spit was a bit late. Whatever happened to the days when we all took turns in rotating the spit by hand?
We had a great time with Kώστας Παπαγκόγκας and his family. Kώστας slaved away with the lamb whilst we all enjoyed ourselves! It was a great day. There are a couple of photos in the gallery here.
On Wednesday, 23rd April we collected son, David and daughter-in-law, Shelley from the airport. We were meant to take them to Tasos' Grill Room by popular request but disaster of disasters, it was closed! One great thing about Greece is that you are never that far from a grill room! We went across the road to the Filarakia Grill Room instead! We had an impressive meal and this will now be on our list of local eateries. As an added bonus, we bumped into one of the members of Corfu Forum, Maggy. She had obviously seen photos of us and recognised us. I like such casual meetings!
The weather for David and Shelley's stay was pretty dire. It was wet and visibility was poor. Still I think the break was good for them both. We had arranged for Kώστας at Gabriel's Steps to get some blue crabs from the lagoon as we wanted David to try a dish that Tricia and I had eaten there previously. Shelley wasn't so sure but David was up for it! David enjoyed it but Shelley settled for something else off of the menu!
David and Shelley hired a car on Saturday, 26th April and took themselves off to Corfu Town. That gave Tricia and I an opportunity to go and collect a birthday cake for David whose birthday was the next day.
Tricia made a great dinner for David's birthday which went down well. Nearly as important, Chelsea beat Liverpool 2 – 0 at Anfield. A glorious victory!
The dire weather continued into Monday, 28th April. It was a real shame but David and Shelley assured us that they didn't mind. – Such pioneering spirit! That night we returned to the Filarakia Grill Room for another outstanding meal. What a blow-out! We won't forget that meal in a hurry. Outstanding food and very reasonably priced.
David and Shelley's stay came to an all too quick end on Tuesday, 29th April when they returned home. I think they still had a little excitement in them as David was shortly to start a new business venture selling vegetarian food in the prestigious Camden Market which is visited by visitors from all over the world. I think we all had our fingers crossed for him.
It was all go for Tricia and I on Wednesday, 30th April. Tricia was returning to the UK to see her dad for a 10 days. I took her to the airport that morning and hastily said goodbye! I had my own bit of excitement to contend with as I had to collect my new laptop which was awaiting collection in Corfu Town. You can guess how I spent much of the rest of that day! Well, in actual fact, you may well have been wrong as I also witnessed Chelsea being knocked out of the Champion's League by Atletico Madrid. Ho hum!
Thursday, 1st May was of course, May Day which as I have already mentioned, is a serious celebration here especially when it came to eating out. I hadn't booked but decided to chance it at Gabriel's Steps. I arrived at 1.45pm and found it packed but managed to purloin the family's table! Parking was an absolute nightmare in Old Peritheia.
The weather was pretty bad. During the course of the day we had pretty much the full gambit – showers, torrential rain, thunder, lightning and low cloud. The only thing we didn't experience was snow. Oh yes, no sun either!
By the time that I came to leave Old Peritheia, the parking was unbelievable. It took a lot of 'juggling to extricate myself. Thankfully, I had managed to get to the car before the heavens opened.
I was very much engaged in domestic duties whilst Tricia was away. Apart from household chores, I also started strimming the land when the weather permitted. I saw the first firefly on our land on Friday, 2nd May. That evening, I had a great meal at Ta Rebetika. A friend of Marios' had caught a sea bream which he offered me. It would have been rude to refuse! He also treated me to a bottle of Bulgarian wine. Okay, so we shared it but I think it fair to say, that I drank the lion's share! Both Tricia and I love this guy's enthusiasm! He never stops rushing around, Over the winter, has had an amazing pizza oven built and has set up something of an ice cream parlour! We hope he does well.
Yiorgos, our jobbing builder appeared on Tuesday, 6th May and started work on the veranda roof. Whilst he was doing that, friend Doug and I strimmed the garden. The grass was so long in our 'orchard' that it nearly killed me!
Yiorgos and Doug continued working into the next day. I had decided that I was going to see old friend Periklis at Taverna Nikolas that evening. However, my plans were thwarted. As I set off, I realised that I had a problem with the car and that the generator belt had come off. This was the same fault that had previously resulted in the car being taken by low-loader to the workshop. This time I was nearer home and managed to nurse it back. I was so worried that I would not be able to get it fixed in time to collect Tricia from the airport that I must confess that I barely slept that night.
I had a full house of workers on Thursday, 8th May as not only were Yiorgos and Doug working but I also had a mechanic working on the car. Yiorgos had phoned a relative of his son-in-law for me. The generator belt was eventually replaced. I wasn't convinced that this was the only problem but anything beyond this was clearly beyond the mechanic. At least the car was running.
As well as the car, Yiorgos and Doug finished their respective jobs. The garden looked good and the veranda roof looked really nice. I wasn't convinced about the car though!
That evening, I took the car for a run to Kassiopi as it was their panigieri. This was clearly going to be a late one and so I decided to pay the delayed trip to Agni to see Periklis instead. I had an ulterior motive!
There had been rumours that a lot of jetties had been declared illegal and had been removed or the owners were to be fined. A suggestion had been made that Periklis had removed his jetty despite having assured me previously that he would not be doing so. I (and I suspect many others) was pleased to hear that the jetties in Agni would remain. Periklis had been and fought his case in the court and had won. He had proven that these jetties had been in existence for many years with the aid of his enormous archives of photographs amassed over the years.
The rest of the week was pretty uneventful. I had a nice pizza with Marios at Ta Rebetika on Saturday 10th May but apart from that, little of any consequence occurred… that is until Sunday 11th May when I went to collect Tricia from the airport.
The journey there was uneventful. The weather was pleasant without being too hot and Tricia's plane was pretty much on time. We paid for the car park, loaded her bags and set off. We had just left the car park when we both realised that the aircon wasn't working. The battery warning light was on. I knew instantly that the generator belt had parted company with the pulleys … again! I swore. Tricia swore! I decided to try to nurse the car as far as Lidl's car park which I knew would be empty. Once there, I lifted the bonnet and had my suspicions confirmed. I was not a happy bunny. I telephoned our insurers who had a recovery vehicle with us inside three-quarters of an hour.
We had the car taken to the main dealership and the tow truck driver phoned for a cab for us. The cab was there in no time, We actually had a good journey home. Like all cabbies, Konstantinos, our driver was very chatty, not to mention amusing. (He insisted upon being called Konstantinos rather than the usual shortened version -Kostas!)
I telephoned the dealership the next morning to explain why our car was abandoned in front of their workshop. A short while later, they returned my call saying that they would need a new belt tensioner from Athens. I shuddered at the memory of waiting for parts from Athens when we had ignition switch problems. They assured me that it should be with them the next day.
Doug came and did some gardening for us and returned the next day to finish the driveway borders. Kassiotis phoned at 1.30pm to say that our car had been repaired and awaited collection. Woo Hoo! All I needed was a lift to the garage. As is often the case, Yiorgos came to the rescue. Having got me there and parked his car he did the Greek thing and proceeded to berate the mechanic for not fixing the car properly the first time! I think that this may have been because he was embarrassed that the mechanic he had called also failed to spot the problem despite having been advised of the previous issues. I didn't care. The car was fixed and it hadn't cost an arm and a leg!
Our week continued with general pottering around the house and garden. The weather was definitely not right for the time of year. It was very cold.In the meantime, friends, Chris and Bryan had arrived on the island and we had planned to go to dinner with them on Sunday 17th May. We wanted to take them to Tavernaki who have moved this year from Sinies to Kassiopi. Unfortunately, because the weather was so bad, they only had a few tables inside and they were fully booked. We ended up at Maistro Taverna in Acharavi which proved to be virtually empty and lacking in atmosphere. We were also disappointed with our meal which is almost unheard of for us there.
Much of my next week was spent painting railings. It's a bit like the Forth Bridge we have so many. I must confess that they have been seriously neglected. The weather became warmer which meant that the opportunity for painting metal railings was seriously limited.
We managed to get a three more meals out with Chris and Bryan before they returned to the UK. We managed a meal at a newish grill room in Kassiopi called 'Chill and Grill'.  The food was very nice but its proximity to one of the noisier bars spoiled it for me. I do, however think that it will make a great place for a lunch.
On Friday, 23rd May Tricia and I took ourselves off for something of a magical mystery tour! It wasn't actually too much of a mystery because we were heading in the general direction of Makrades where we had been told of an elderly couple, Spiros and Eleni who sell produce by the roadside at amazingly reasonable prices. Anyone who has travelled this route will be aware that selling at the roadside all the wat from Makrades to Lakones is something of a sport whereby sellers will almost throw themselves in front of your car!
Before we arrived at Makrades, we passed what must be the smallest church, complete with bell tower, in Corfu at Troumpetta
We found Eleni and Spiros with no difficulty. After sampling their goods we came away with two large jars of honey, a bottle of wine and another of olive oil. The honey and oil were excellent … the jury is still out on the wine!
We continued our journey westwards stopping off at Anglokastro to take photos and Lakones where we had coffee and a Corfiot version of a donut whilst overlooking Paleokastritsa. We always maintain that Paleokastritsa is best seen from above! Nothing has changed our minds!
This was a pleasant break on our own.
We finally made it to Tavernaki on Saturday, 24th May. It was our first visit since they moved from Sinies. What a superb meal! We were pleased that Chris and Bryan enjoyed it too. In fact we later learned that they enjoyed it so much that they returned a further two times during their stay. They were still clearly learning to cope with the extra covers compared to their previous location but we thought that they coped admirably. Having discussed the move with the owners it is clear that they still have further plans. We look forward to developments. They will, we are sure, do very well. I can see other local restaurants becoming worried!
Before our last meal with Chris and Bryan, we had an arrangement to meet up with friends Neal and Bev, and Diane and Steve on Saturday, 31st May. They had all come up to Agni from their homes in Petriti in the south of the island. They had all booked apartments with Periklis. We had a great evening catching up and as used to be the case, we were the last people to leave the taverna! Long are the days when it used to be nearer morning than night when we left but we did our best!
Our last meal with Chris & Bryan was on Sunday 1st June at their apartment's restaurant. (Katia Apartments, Avlaki/Kassiopi). This was another place where the young owners were working hard and providing a good service. Chris and Bryan have returned for a few years now, they have enjoyed it so much. We even had a guided tour of their apartment! It looks like a good place for a holiday.
Chris and Bryan returned to the UK on the Tuesday, 3rd June. We will catch up with them again later in the year.
Things were not due to let up on the visitor front during June! We had daughter, Louise and son-in-law Steve coming out on Saturday, 7th June followed by friends, Chris and Barry on the 9th. Shortly after that on 17th June friends, David and Eda and David Valerie were all due to arrive.
Obviously, family comes first but we have been friends with all three couples for a very long time. In fact we didn't realise it but we stayed in the same apartments as Chris and Barry the first time we ever visited Corfu.
Chris and Barry have now returned to the UK but we managed a couple of meals with them as well as taking them into Corfu Town. More about that later.
On Friday, 13th June we took Louise and Steve into Corfu Town. In all the years that we have been here and have visited, we had never been inside the New Fortress. We intended rectifying that. Entry between 9am and 5pm was free. We have to say that it was something of a revelation. There was plenty of shade and unlike the Old Fortress climbing to the top was relatively easy. There were many photo opportunities across Corfu. We highly recommend it. There is even a reasonably priced snack bar where we had drinks.
From the New Fortress, we walked to the British Cemetery. We have a friend buried there and it is also partly maintained by the War Graves Commission as many seamen who died in the Corfu Straits Incident are buried there. We were privileged to meet the caretaker, 'George' Psailas, who was born there and plans on being buried there. He showed us his plot! His father was caretaker before him and he took over in 1944 at the age of 17. A vast number of different varieties of orchids grow there and George is something of an expert. This may not figure on every tourist's itinerary but it it is a very calm place to visit to get away from the hustle of Corfu Town. George is an absolute treasure!
We took a slow walk to the Liston where we had ouzo mezes and whiled away the time before setting off for La Famiglia Italian restaurant. We arrived shortly after they had opened at 8pm which proved fortuitous. We had not booked a table but several were already reserved. The place filled in no time. We all had excellent meals and the bill was as reasonable as ever. It is a good place to eat!
On Wednesday, 18th June Tricia and I had arranged to take Chris and Barry to Kanoni and Mouse Island (Pontikonisi). As Louise and Steve hadn't been to Mouse Island, They joined us. The weather had not been good when we left home but it improved as the day progressed. Although overcast, the rain held off. We had a good time and we all took many photographs.
Tricia spotted some wind chimes in the gift shop on Mouse Island which she instantly fell in love with. I feigned a few groans but they were made from goat bells and were actually quite melodious. I was taken to view the wind chimes and whether or not I was going to buy them, the matter was taken out of my hands by Chris and Barry who promptly bought them for us as a present for taking them out! It was a nice, if not unnecessary gesture. The wind chimes now have pride of place on our veranda and I can report that their chimes are very pleasant. Better still, it takes quite a gust to get them going, so that act as an early warning system when we need to lower our umbrellas!
Lunch was another first for all of us. We made our way to Anemomilos, Where after taking a few photos, we had lunch at the Nautilus Restaurant. We had heard several recommendations for the place. They were justified! I think it fair to say that we all enjoyed ourselves.
On Thursday, 19th June Louise and Steve took themselves off to Seki Bay where they made something of a discovery whilst in the throes of arranging his sunbed. It was an enormous bug which measured about 7.5 centimetres in length. The bug was still alive and Steve admitted to being more than a little wary of it. As it turns out, his caution was justified! He took several photos of the bug before carefully moving out of the way as it appeared to be on its last legs. Now a couple of coincidences kicked in.
Steve came home and showed his photos to Tricia. Coincidence number 1 – Both Tricia and I had seen an earlier post on Facebook from the Durrell School along with a photograph of what was clearly an identical bug that had been found in Peritheia earlier that day. It is called  Lethocerus patruelis and is apparently quite rare. We later discovered that the school's entomologist was extremely excited by the earlier find.
Later that evening, we all went to Gelati's to watch a World Cup match. Cue coincidence number 2! Who should walk in but David and Alex Ashcroft from the Durrell School! Steve showed his photographs to David who was quite excited by the find. The photographs have been forwarded to David along with the now deceased bug which Steve managed to recover from Seki Bay the next day. A word of warning should you find one of these bugs. They are supposed to deliver the most painful bite of any bug although they are not venomous.
Louise and Steve wanted to get a trip to the Lefkimmi Salt Pans to do some birding before they returned to the UK. They decided that Friday 29th June would be an ideal day. Tricia and I would have liked to have joined them but in true birding fashion, they wanted to get there early. Tricia and I opted to join them for lunch at the Kalami Fish Taverna in Boukari for lunch.
It was the first time that Louise and Steve had been to the Kalami Fish Taverna. We had an excellent table under the shade of an olive tree with an outstanding view of the sea along with the antics of those who had chartered the motor vessel, 'Starfire'. What a beautiful boat! Some of us can only dream!
Our meal was outstanding. The fresh Red Snapper was superb. Steve had never eaten it before but discovered that he liked it. He ended up picking the bones. – It really was that good!
That pretty much completed Louise and Steve's holiday as they were due to return to the UK late the next day. All that remained as for Steve to top up his tan and for Louise to pack!
After an early dinner at Gelati's on Saturday, 21st June, it was time to take Louise and Steve to the airport. The journey was uneventful and the queues at the airport not too tedious. Before long, we were waving them off through into the departure lounge. We hope they enjoyed themselves. We had enjoyed having them as it had seemed like a holiday for us. Tricia confided that although she normally complains when I suggest going out to eat, she was very happy that the number of occasions that she had been required to provide dinners was minimal.
I just hope that we can shift some of this weight before Hurricane Fogarty hits at the end of July! Yes, Corinna, Dave and our four grandchildren will be on their way!
We joined Chris and Barry for their farewell dinner at Taverna Nikolas on Monday, 23rd June as they were returning to the UK the next day. This was also the first opportunity that we had to see David and Eda and David and Valerie since their arrival. We promised to catch up during the week once we had allowed ourselves time to recover! Suffice to say, it was a reasonably late night!
We pottered around for much of the rest of the week. The weather turned very overcast for a couple of days and we had extremely high winds for two days. I feared for our tomato plants as one support had clearly snapped. I hastily erected a 'cage' around the supports which I was actually quite pleased with. Add to that the fact that Tricia has been eating rip tomatoes and I must confess to being slightly pleased with myself!
On Friday, 27th June, Tricia and I returned to Agni Bay for dinner with David and Eda and David and Valerie. As is not uncommon, we started with 'sippers' at David and Eda's apartment! A good start to the evening. (I am not sure that my diabetic nurse would agree!)
We had a terrific evening and Tricia and I have discovered that Taverna Nikolas is preparing their Prawn Saganaki differently to how they used to and in fact different to anywhere else that we have tried it. It was sensational! Poor Valerie nearly had heart failure when she picked up a bottle of ice-cold retsina! So much condensation had formed that the adhesive on the labels had given out causing the bottle to slip from her grasp leaving here clutching the labels!
Needless to say there was a lot of grabbing for the bottle! I should point out that this was to save the entire contents ending up in my lap! Suffice to say, wasn't going to be getting up to go anywhere in a hurry! The best bit was that everyone agreed at how much I had mellowed! There wasn't a lot I could do really! I am a reformed character – honest!
Yet again, we were almost the last to leave! At least my jeans had dried out! Another great night out.
With the end of June is approaching we are still hoping to cram a couple of things in before the end of the month. I decided to withhold publishing despite a couple of recent comments about my tardiness!
How did you spend Sunday, 29th June? I hope it was as good as ours! Tricia and I set off at about 11.30am and drove something like 75km from home in the North East of the island to Boukari in the South. We chose to drive over the mountain rather than the picturesque coastal road for the sake of expediency. The temperature was 31°C when we left home.
Although we didn't have the beautiful sea views as far as town, we did have some excellent views of much of Corfu Town as we descended towards the Paleokastritsa Road. Once on the Lefkimmi road, we had sea views all the way to our destination.
We arrived at the Kalami Taverna in Boukari to be greeted like long-lost relatives and were given a table in the shade whilst the owner prepared a table in the shade of an olive tree and next to the beach.
Lunch consisted of a seafood meze to accompany our pre-prandial drinks. We selected four fresh Glossa (Sole) that were amongst the selection of fresh fish that were brought to the table for us to choose from. This suited us as we wanted a light lunch.
The beach was empty; the sea was clear; the cicadas were chirping away. It was, in a word, idyllic.
If you add to that the cheerful, friendly service to the modest bill compared to what we normally pay nearer home, not to mention the free drinks and Kataifi for dessert then it is difficult to know how we could have improved upon this. We rounded the day off with Frappés at Emeral on the way home.
The 150km round trip was worth it! Remember that we are not on holiday!
Like we said, … "How was your Sunday?"
We ended the month in style! Friends, David and Eda had invited us to join them on their hire boat with a view to making a trip up to Taverna Glyfa from Taverna Nikolas in Agni.
We were really looking forward to this as it is several years since we made that journey and I wanted to take photos. The day started badly! We had decided to leave the dogs in the kennels at it was probably cooler than the kitchen. They were walked before being housed and Tricia and I decided to finish getting ready and just going without any fuss. I am not sure whether I made a mistake but before leaving, I decided to check on the dogs. Upon reflection, mistake or not, it was as well that I did check. Bella had emptied her washing up bowl full of water despite our best efforts at securing it.
I scolded her. That's a polite way of saying that I swore at her! I refilled her bowl. Inside a minute, she had emptied it again. We couldn't leave her all day in the sun without water, despite the shade so it was back to plan 'a'. She had to do in the kitchen. Obviously, it wouldn't have been fair to leave Jake on his own. He joined her.
Tricia and I arrived with about 5 minutes to spare. Normally we are poor timekeepers (it's a Greek thing  ) but we like to try and be punctual when meeting English friends.
We left Taverna Nikolas at about 11am only to have to return almost immediately as the boat had taken in some water which we couldn't clear. Spiros the boatman soon resolved the issue and we were back off on our way, David was good enough to pause a few times whilst I took a few photos on the way. We were amazed at the changing coastline since we last did this trip.
We stopped off for a beer at The Olive Press in Nisaki, (It would have been rude not to!) before ending up at Taverna Glyfa for a long leisurely lunch. It must be at least ten years, if not more, since we visited there. It always was a nice spot but there was often an issue with tiny little flies that used to hover around your ankles whilst giving you a nasty nip! Not any more! The taverna has undergone a massive transformation by the current owners. It is now an exceedingly nice place to eat whilst overlooking the sea. In fact, Tricia and I commented that is more a restaurant than a taverna.
For a start, the menu was different. We would describe it as more Mediterranean than Greek. This makes such a change! Front of house was run by Yiannis assisted by Vasilis and Paniyota whilst Yiannis' mother was apparently in charge of the kitchen. Despite being relatively young, they were all very good at their jobs. Yiannis was also a 'dab-hand' when it came to manhandling the boats when the sea conditions were more than a little choppy. We found that out when it came time to leave!
Our meals were superb. I recommend the scallops as a hot starter and the piadakia (lamb chops) were excellent. If I wanted to be critical, I would have said that I could have done with a couple more but then I always was a glutton! They were beautifully cooked and accompanied by a very interesting sauce. Tricia's feta fourno (feta cheese cooked in the oven) was first-rate and she declared the fresh salmon tagliatelle outstanding. Vasilis offering to flambe David and Eda's Saganaki with Grand Marnier was a nice touch! We would not hesitate in recommending this taverna. Great food and excellent service.
As I have already mentioned, the sea had become choppy when it was time to return. Yiannis had no difficulty in assisting to manoeuvre the boat so that we could get in without ending up in the sea! Despite being choppy, our journey back to Agni was uneventful, made better by the brilliant sunshine. It really was hot!
Tricia and I had a great day out courtesy of David and Eda. I guess that we felt comfortable knowing that David has been taking boats out here for over twenty years. Tricia and I have a bit of history with boats which we won't go into here! It was a fun day!
That's it for now. Don't forget to check out our photos here and note that there are two pages of them!
Bob & Tricia