Like the heading says, Welcome!. We are working hard to try and bring you a slicker site and this is my first post to christen it, so to speak. As we are still in the development stage, I thought it better to get the posts started. Clearly we are now not going to bore everyone with everything that goes on with our lives, just what we think may be of interest.
I thought that I would start with some comments up until now just to get the ball rolling. There should be less entries from now on compared with the previous 'Newsletter' format. Here goes nothing!
What are our expectations for February?
Can it really be February already? This is the month that we generally detest the most. In fairness we didn't think much of it when we lived in the UK!
We have nothing planned for the month, but who knows what we will find to do. There are actually a couple of restaurants / tavernas that we want to try out. Maybe we will get to them this month … maybe we won't!
Saturday, 1st February was dull, grey and damp. I occupied myself with yet another IT project – setting up a home server! It looked like February was going to meet our expectations!
During the day, we experienced a few power outages which played havoc with my plans but fortunately, we have sufficient things in place to prevent damage caused by unexpected power cuts. We also had a log fire burning and our trusty gas lamps so at least we kept warm and could see!
The drizzle continued all through the next day. We thought that lunch out was called for and spent half the morning trying to decide where to go! In the end, we took pot luck and decided to go into Acharavi and see what was open.
We knew that Maistro would be open but felt that we would like to go somewhere different. Everywhere was closed apart from Odysseus Taverna and an empty grill room. We could not see inside Odysseus from the car and so we decided to give it a try. We had only been there once before and that was for somebody's birthday many years ago.
Apart from the owner there were two other customers. We had no difficulty finding a table! Odysseus is very popular with holidaymakers during the season. Being on the main road, it is very visible. It is nicely decorated, more in the style of a restaurant than a traditional taverna, They claim to open every day. It must be soul destroying in winter if this day was anything to go by.
We were told that we could have anything from the grill, pasta dishes and a few 'specials' along with most of the starters on the menu. We settled for Flogeres and Spetsofai sausage to start with followed up by roast pork, Greek style roast potatoes and vegetables. The starters were what we expected. I would have preferred the Spetsofai sausage to be a little more spicy but we both acknowledge that everyone's recipe is slightly different. The main course was acceptable but I wouldn't have it again.
All in all, we didn't leave thinking that we had eaten a special meal but it was okay. I wished that I had had something from the grill! We may well give them another chance when it is a little busier. However as a venue, we couldn't fault it. It was very comfortable.
The big event of Monday, 3rd February for us, was Chelsea beating Manchester City 0 – 1 at the Etihad! It was an outstanding match with both teams playing well.
The  grey, cold drizzly weather continued but our day brightened up on Tuesday, 4th February when a book that we had been waiting for finally turned up. The book in question is a real 'coffee table' book entitled, "Corfu The Garden Isle" by Spiros Flamburiari. It is out of print but Tricia found a copy in America for $20. Considering that we have seen it on sale at prices in three figures, we had decided to take a chance and order it. It really is a lovely book.
We had ordered this book on 28th December 2013 and were getting worried. The sellers were very good and responded to our queries almost immediately but the book's whereabouts had remained a mystery. "Where was it," you might ask? It was on the floor of our postman's car!
Tricia had been complaining of a pain in her lower back which was gradually getting worse. It really hit her on Friday, 7th February. This was really unfortunate as the weather forecast  had promised fine weather. We had promised ourselves that we would take ourselves off to Nymfes to try and locate and photograph the waterfalls there. In all the years that we have both visited and lived in Corfu, we had never seen them. In summer they dry up and are lost to visitors.
We set off in bright sunshine but the nearer we got to Nymfes, the greyer the weather became. The light was far from ideal and it rendered a lot of our images quite washed out. However, we continued our wanderings through an olive grove, taking photographs as we went. In fact, I felt that some of my better images were taken in that olive grove.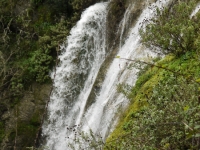 Nymfes Waterfalls – Click Me!
On our arrival we found the road washed away and only passable by 4 x 4s. We had to walk. Tricia declared that her pains were easier when she was walking. That wasn't to last! By the time we returned to the car, she was in agony. By the time we returned home she was near to tears the pain was so bad.
This was the start of Tricia's confinement with what we are convinced was/is sciatica. She has devoured every painkiller known to man including some so strong, they won't sell them in the UK! She has found the most relief was achieved by placing a hot water bottle near the source of the pain. The downside of this was that the only way she could sleep with the minimum of discomfort was to do so on the settee so that she could wedge the hot water bottle in place!
By Monday, 10th February  the sunny weather had returned. This at least allowed me to catch up with sawing and splitting wood. This would last us for the best part of a week.
Tuesday, 11th February was amazingly sunny and warm. We had arranged to buy some wicker chairs from acquaintances, Rob and Barbara.  They live in Garitsa which for the uninformed is like a small suburb of Corfu Town. I could not believe the temperatures being recorded on the car's thermometer. They reached a high of 21°C which is almost unheard of at this time of year.
With the chairs safely wedged in the back of the car, I had time to return home via Lidl to stock up. I am not complaining but with Tricia out of action, I was struggling at being nursemaid and chief cook and bottle washer! Although we had enough food to ensure that we would not go hungry, I have to admit that I don't share the rest of the family's cooking skills. Yes, I know my limitations!
After a few glorious days of sunshine, Wednesday, 12th February was a bit of a let-down! To be honest, it wasn't really! Although it was grey, a little cooler and breezy, at least it wasn't raining. It had clearly rained overnight but the wind had dried things up. I could still walk the dogs in trainers! I was going to say that you can't believe how much we come to hate Wellington boots during the winter but given the unbelievably extraordinary weather in the UK, I guess that wellies would be a bonus for many people there. Waders seem more appropriate from what we have seen.
The previous night, Tricia had suggested that she might try to walk Bella. In the end, I walked Bella but Tricia came around with me. She was very unsteady.
By Saturday, 15th February the sunny weather was back. Tricia was showing signs of improvement but her pains were obviously still causing serious discomfort. She clearly felt better when standing which was both a blessing and a bit of a worry. It was a blessing because it meant that she felt able to do some chores that would otherwise have fallen on me but it was a worry because she would almost certainly attempt to do too much … which of course she did!
I had quite a session working on the new website. Because of the changes that I wanted to make, it meant that I would have to work out how to make them in such a way as to minimise downtime on the site and keep the changes out of sight of any visitors until such time as we went live. Much was available on the Internet but there were still things to work out through trial and error. My biggest fear was that the existing site would be trashed! By the end of day, things were going quite well.
That evening, we feasted on a takeaway from the grill room in Acharavi. To be honest, it was okay but nowhere near as nice as sitting down to eat there. Tricia didn't feel that she could manage the car journey and then have to sit on a hard taverna style chair.
Tricia decided that she was going to sleep in our bed for the first time in well over a week. She had been sleeping on a sofa where, as I have already mentioned, it was easier to prop a hot water bottle in the appropriate position to relieve her pain. She later confided that the hot water bottle provided more relief than all the medication that she had been taking. Please! Nobody mention the word doctor in her hearing! As I have pointed out to friends, the last time she saw a doctor was whilst giving birth to David!
Sunday, 16 February was another gorgeous day and it was hard to remember that this was still February. If it rained for the rest of the month, we could not complain.
Tricia's pains were marginally better despite spending an uncomfortable night but she was feeling well enough to make a gorgeous Sunday dinner! What with my scrambled eggs with smoked salmon for lunch, we definitely weren't starving! 🙂
For my part, I started to make a modest attempt at developing the new website which was taking shape. It still has a long way to go and to be honest, it is still under construction as I type! I think that I ought to return to web designing for now as we are now up to date!
If things can go wrong ….
As the the title of this post suggests, if things can go wrong, they usually do!
I guess that the worst thing that I should comment on was the fact that, as I suspected, Tricia's improved sciatic was short lived. You will recall that I had previously mentioned that I thought that she had been attempting too much. Ho hum!
Things are however now improving. She has read up just about everything available on the condition and discovered that many people find sleeping with their legs separated by a pillow. As bizarre as we both thought this, she has tried it over three or so nights and found that she has had uninterrupted night's sleep. Whether it was psychological or not we don't know but she is now sleeping without taking these extreme measures and the pain appears to be considerably reduced. As of today, she still doesn't feel like venturing further than walking Bella around our land.
What else went wrong? Well there was our satellite receiver! In the scheme of things, this may not seem much but we rely on it during winter for entertainment … well actually, we rely upon it for the Premier League and Champions League football!
On Thursday, 20th February, I took it to our trusty repairer, Pavlos in Corfu Town. He couldn't repair it whilst I waited but promised that it would be fixed the following day. To say that I was impressed at the thought of a second journey into Corfu Town on my own was an understatement!
I was also quite despondent as it was a day of celebration in Greece – Tsipnopempti (Smokey Thursday). It is a day when people traditionally have the first barbecue of the year. The Village's Agricultural Society had arranged a party in the old School House which I had been looking forward to. However, with Tricia still feeling under the whether, she didn't feel able to attend and despite her protestations, I didn't think it would be right to attend on my own. Tricia made up for my disappointment with the biggest fry-up ever! Not quite a barbecue but a good substitute!
Things got better still at around midnight when Paulos texted to say that he had fixed the satellite receiver. Yes, we all keep strange hours!
The next morning saw me back in Corfu Town collecting the satellite receiver. I must be getting old as I was worn out by the time I returned home! It is probably the fact that I had done this journey twice on my own which I find quite boring.
From that point on, most of my time has been spent at home either working on this and other websites or chopping wood. My exploits with the firewood took a turn for the worse when the brake on the chainsaw locked on over the weekend. That necessitated a trip on Monday, 23rd February to another trusty repairer, Stefanos. Thankfully, he worked his magic and we are back in business!
My efforts with this website continue. This post being the latest offering. I think that we are going to go live with it!