It is hard to believe it's March already. We hope the Welsh contingent enjoyed a happy St David's Day!
It rained on and off during Saturday, 1st March. I had to venture out to the shops whilst Tricia stayed at home. During the afternoon we watched Fulham v Chelsea which ended with a 1 – 3 scoreline. A very well deserved win by Chelsea who were top of the Premier League. Mind you, we nearly didn't see the match. It was only that we discovered it on Spanish television at the last minute!
With Clean Monday only a couple of days away, we suddenly remembered that we hadn't booked to go anywhere for lunch. I hastily phoned Vaso at Maistro Restaurant. I should point out that Clean Monday is a day when many people go out. They either picnic or dine out. Of course there is also kite flying if the weather is okay. I had to plead with Vaso for a table. As it was only the two of us, she said she would try and fit us in. That was a close call!
It was Carnival throughout Greece on Sunday, 2nd March. It was the day of the largest Carnival parade in Corfu Town and elsewhere on the island. Because the weather was pretty dire when we awoke, we decided to have a Sunday roast at home. Would you believe it? It brightened up around the time Carnival kicked off! I was disappointed as it always provides an opportunity for some colourful photos. However, I did have my doubts as to whether Tricia would have been able to endure the long journey and all the hanging around. It was probably the best decision. We did have a nice dinner though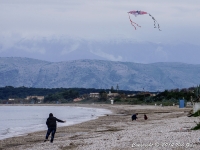 Kite Flying
Tricia and I were looking forward to doing out for lunch on Monday, 3rd March as it was Clean Monday. The shower weather continued but it was dry over the lunch period. We arrived at Maistro Restaurant just after 1.30pm as Vaso had suggested. We were lucky that we did. There were already quite a few people there and it began to fill up very quickly. Vaso had genuinely had to squeeze Tricia and I in. We had a very small table in the middle of the restaurant but we didn't care. We managed to utilise a nearby ledge as an overflow for plates and drinks!
We had a simple but very nice meal comprising white taramasalata (the best!), Tsigari, grilled mushrooms to start with, followed by fresh king prawns with spaghetti. It was all very good and we were pleased that we had conformed to tradition and had eaten nothing with a backbone! The place was really buzzing. We commented on the fact that we don't have occasions like this in the UK. Perhaps Christmas meals out might come somewhere near but we have never experienced the buzz and constant chatter that one experiences on occasions such as this. Surprisingly, unlike meals out in the UK meals such as this are not accompanied by vast quantities of alcohol. Don't get us wrong, most drink but it is very moderated.
When we left, people were still queuing for tables and our little table was immediately snapped up. Surprisingly, despite the fact that the place was packed, we only saw one family that we knew – the owners of Tasos Grill Room!
Tricia and I went onto the beach to see whether anyone was still flying kites. There were a couple of kites being flown with limited success but there were several people about enjoying the fresh, if not cool fresh air. We were particularly taken by a little boy who was playing with his pet dog at the water's edge. It made for a couple of good photographs. It was nice to see a little boy having simple fun.
The weather went from bad to worse on Tuesday, 4th March and culminated with a thunderstorm in the evening. It was also very cold We have been commenting that the weather so far this month was more what we would have expected in February. Still, we aren't complaining.
We were just thinking about getting up at around 6.45am on Wednesday, 5th March when the earth moved – literally. There was a low rumble. It was quite mild really and nothing that we haven't experienced many times before. Yes, it was an earthquake. Apparently it was only 2.3 on the Richter scale. This was really mild compared to some we have experienced and definitely mild compared to what Kefalonia is continuing to experience.
In the evening, we watched the Friendly international football match between England and Denmark. The 1 – 0 result in favour of England was the right result but it was a pretty uninspiring match. Having said that, there were a few impressive performances but some of the younger England players. There is definitely some hope for the future. Again, we nearly didn't see the match as it was being televised on ITV in the UK. We cannot receive ITV here and so after a bit of hunting around, we found it on a French channel of all places!
Bob & Tricia